What's going on in Myles Standish State Forest?
The Friends were approved for a DCR Partnership Matching Funds project to help rebuild two boardwalks near the north end of the East Head Reservoir. A little more than half of the 438 boards are in poor condition. A few were missing. We are hoping to replace the entire top deck with pressure treated boards which will last a long time. We are talking to the Plymouth conservation commission now and hope that will go smoothly. We anticipate needing a lot of help to make this happen and hope you will come out and replace a few boards when it warms up a little. (We are thinking about April.)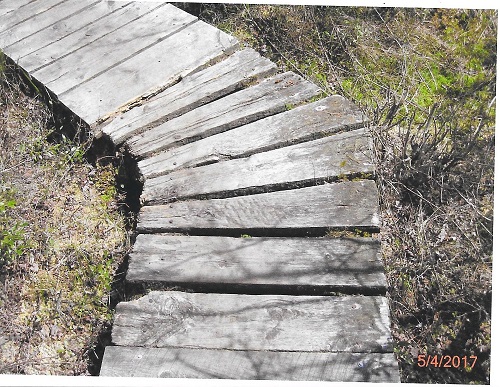 The proposed changes were the subject of a public meeting at Mass Wildlife headquarters on Tueday, February 6th. Since there are are two large wildlife management areas in Myles Standish SF (the Bentley Loop area and the Cutterfields Road area) and there are others bordering the state forest, the discussion is an important one. Mass Wildlife supplied this summary:
Summary of Proposed Leash and Waste-disposal Requirements for Dogs on Wildlife Management Areas The Division of Fisheries and Wildlife (MassWildlife) has a long tradition of welcoming dogs on Wildlife Management Areas (WMA), and that dogs will still be welcome on WMAs under this proposal.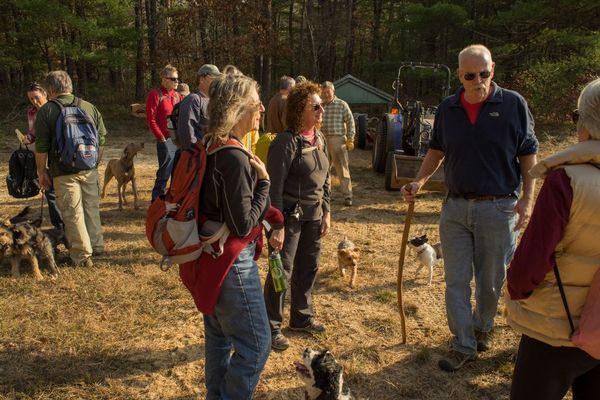 MassWildlife proposes to take this action due to what it says are repeated complaints from WMA users about negative and unsafe encounters with unleashed dogs and issues with dog waste. MassWildlife says protects and manages its 200,000 acres of WMAs primarily for wildlife to thrive and for wildlife-related recreation such as hunting, fishing, and wildlife-watching. At the same time, MassWildlife strives to provide a safe and enjoyable outdoor experience for all visitors.
1. The proposed regulations require the leashing of dogs and other domestic animals on WMAs. Dogs may be off-leash only when hunting or hunt-training with licensed hunters or at permitted field trials. It believes that leashing non-hunters' dogs will decrease conflicts with both people and other dogs, resulting in a safer and more positive experience for everyone.[ MassWildlife reported that it has received several complaints from people who were attacked or scared by off-leash dogs. While these events are regrettable, we would propose letting dog owners know of the problem and ask for voluntary compliance before enacting a total off-leash ban. Also, it seems possible that hunters dogs may occasionally bother or scare people in these WMA areas. ]
2. The proposal requires dog owners to pick up dog waste and dispose of it offsite. Removing dog waste reduces nuisance and health risks for dogs and other pets, people, and wildlife. [We note the waste disposal rule will not apply to hunters and wonder why they can't join in the cleanup which will benefit all WMA users.]
We note that the proposed regulations also make it a violation to let your dog interfere with the use or enjoyment of another person in the wildlife management area. While no responsible dog owner lets his or her dog interfere with others, the rule, as written, seems like it leaves a wide latitude for interpretation. Similar DCR regulations state that a dog simply acting in a customary fashion would not constitute "interference with the use or enjoyment". ( From the DCR regulations: "but a person's enjoyment of DCR property is not interfered with merely by another person's interacting with an animal under his or her control in a customary manner for such animal." ) Some sort of clarification is required.
Also, The fact that the interference rule does not apply to hunters would seem to rather absurdly mean that hunters can let their dogs interfere with others. That can't be legal.
Comments by e-mail on the proposed regulations may be sent to Susan.Sacco@state.ma.us , to the attention of the Fisheries and Wildlife Board. Comments may be sent until February 20, 2018.
The Friends count many hunters among our members. We were unaware until now that off-leash dogs were a major source of problems. We have many members who go out into the vast expanse of Myles Standish with their dogs and let them run off-leash. They rarely encounter much less bother anyone. They typically go out on Sundays, which is not a hunting day. We do not disagree with the need for dog owners to control and clean up after their pets. However, it seems to us that these areas have been successfully managed for years balancing the use of the few (the 57,000 hunters) against the needs of the other 6,000,000 citizens of the Commonwealth.
We hope you checked out the new ornament on the Communitree in downtown Plymouth.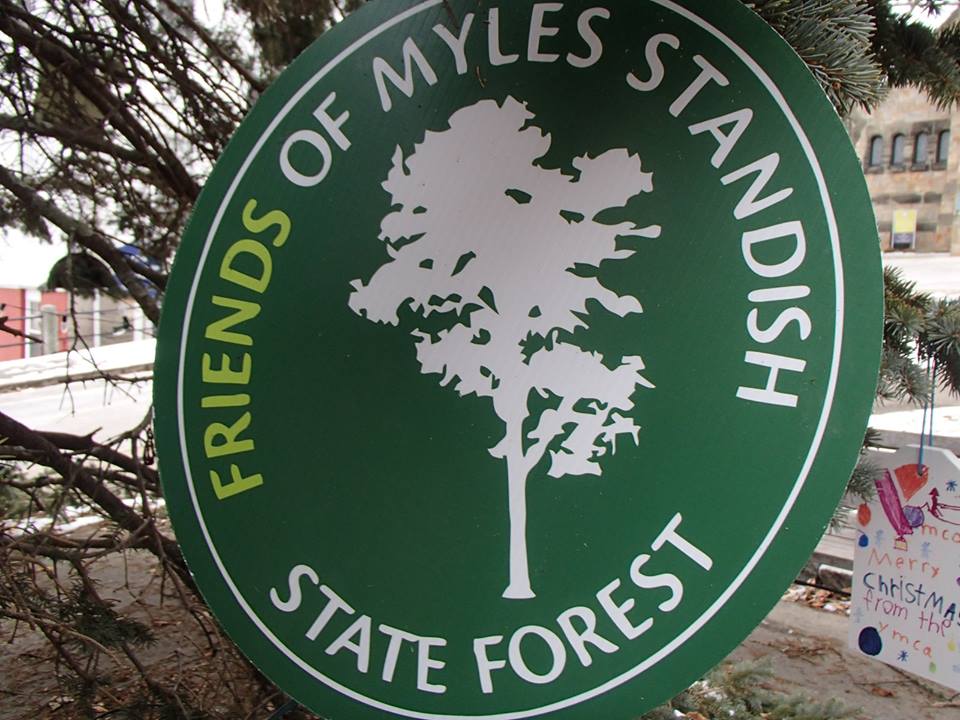 Thanks to Cyndi Vickstrom and Karl Lekberg for the beautiful work!
Friends 2017 Photo Contest Winners Announced
2017 Photo Contest Winners. 14 winning photos were chosen by judges from 70 entries. The photos were enlarged and displayed at the Fishing Derby.
The Friends' 2017 Family Take Me Fishin' Festival took place on September 30th.
Despite very threatening clouds, the rain held off all day and more than 100 people registered to fish. The winning fish was a 17 inch rainbow trout caught by a little girl. She took the 4-pack of tickets to Edaville Railroad as her prize.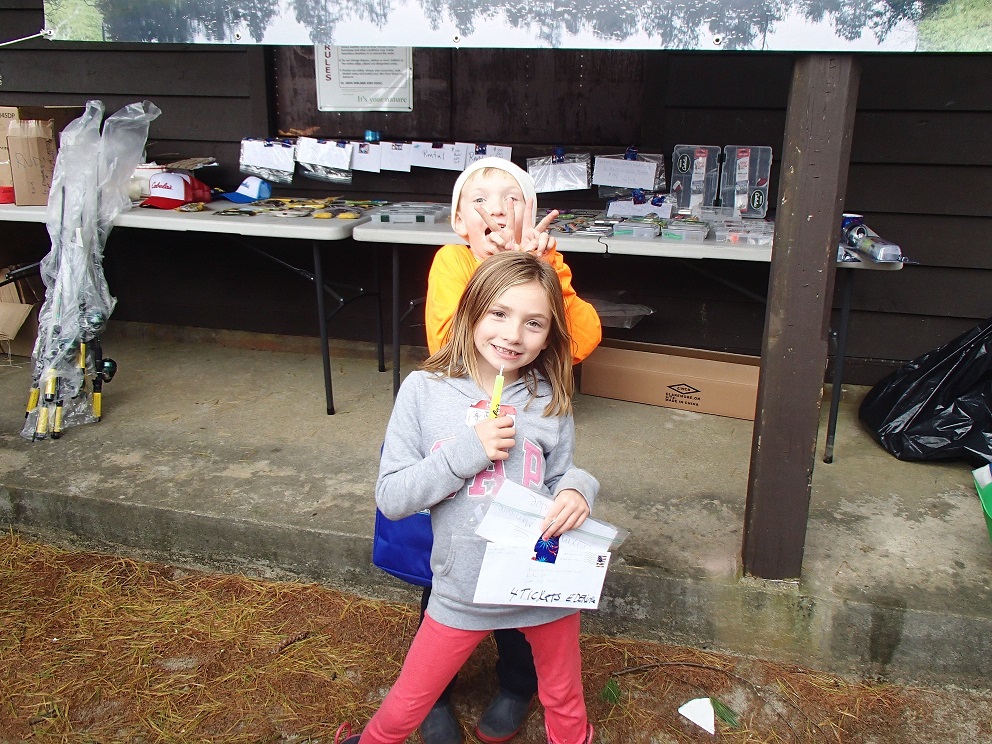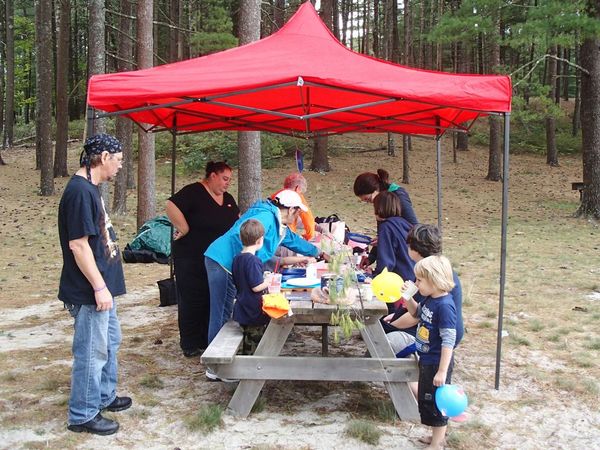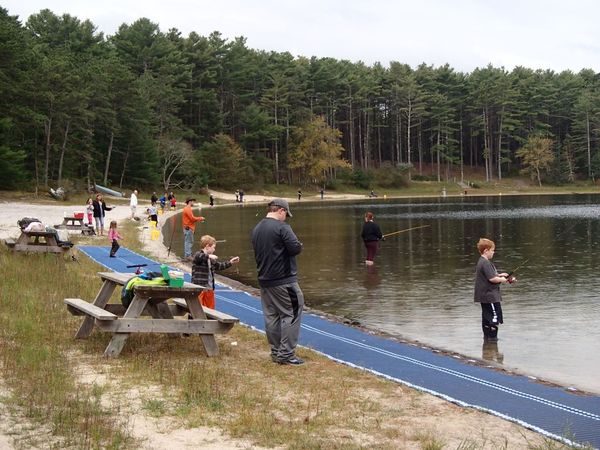 The Friends want to thank all of the Derby sponsors, including Massachusetts DCR and Mass Wildlife, along with our generous prize donors. (Photo of prize donors poster coming soon.)

Native Bird Support- Bluebird totals were up again in 2017.
40 bluebird boxes went in on March 18th this year. Here are the bird box totals for Myles Standish for 2017: We had:
21 Bluebirds,
97 Tree Swallows,
6 Chickadees, and
38 House Wrens (probably more).
We had 16 Bluebirds last year so this is great news that they are increasing and spreading out to areas they haven't been before like the Headquarter's field. They still seem to love the East Entrance and Smokey the Bear fields! We almost had them in Cutter Field and Curlew Pond Field, but they never laid eggs. Maybe next year! Our Tree Swallows were up by 2 birds this year, Chickadees were down by 1 bird and the House Wrens were down quite a bit by 28 birds from last year (not sure why...could be food source related). Overall it was a good year, despite a few missing eggs due to snakes in Barrett's Pond and a few dead hatchlings at Curlew Pond.
All the boxes have been reported closed on Cornell's Nestwatch and our bluebird box coordinator Melissa wants to thank Laura, Bill, Roz, Pat, Claire, Clara and Donna for your help again this year. The Cutter Field boxes were taken down last weekend are being stored in my garage. We had 7 volunteers this year monitoring from May- August. Rest up this fall/winter and I'll see you in the spring for another year of adventures! See more pictures and the reports from prior years on our Native Bird Support page.
If you want to help the nestwatching group next spring, write an email to birds@friendsmssf.com for more info.
Friends 2017 Photo Contest is now closed!
Entries are now being sought for our 2018 contest. Rules will be the same as in previous years. Up to 3 entries may be submitted by an individual. All photos must be taken in Myles Standish State Forest between 9/20/17 and 9/20/18. Categories are historic, landscape, flora, fauna, recreation and memorable event. Submit photos electronically to
photos@friendsmssf.com
on or before 9/19/2018. Please include your name, photo title, photo location (approximate),category (flora, fauna, landscape, etc.) and date. Awards will be announced at the Friend's Fishing Derby on September 29th, 2018.
View previous winners
.
The bluebird boxes went up in March. Multiple broods have hatched already! Friends-led hikes are going into the forest most Thursdays and Sundays. (Check our Meetup page for the full listings and latest details.)
The new map mural was put on display next to the Park's Interpretive Center.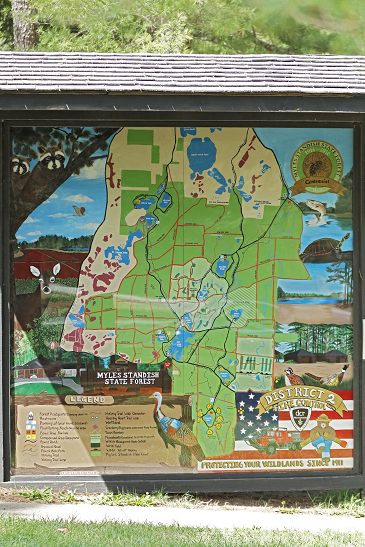 The map was commissioned by the Friends and the DCR from local artist Laura Anzalone.
Camping started on May 25th
It ran through October 9th. Curlew Pond campsites 1-25 were temporarily closed while a bathroom was replaced. Get your Myles Standish State Forest campground reservations now at
Reserve America
. Camping is $17 per night.
New Treatment Facility for Addicts opened at site of former MCI Plymouth
In early May, patients were transferred in to a new treatment facility for substance abusers and alcoholics at the site of the former MCI Plymouth, which is located within the state forest off Circuit Drive.
It is called MASAC (Massachusetts Alcoholic and Substance Abuse Center) at Plymouth. Some of them (17 at last count) have been leaving the facility without permission and have had to be returned by law enforcement. The patients have been committed by the Courts to the facility under
Section 35
, which explains that those committed to the facility are judged by a Court to have a subtance abuse problem which is causing them to pose a danger to themselves or others. MCI Plymouth existed for about 75 years in the forest using the same facilities and had no escape problems that we were ever aware of. Friends President Bill Vickstrom
spoke to the media
about the Friends' concerns.
We hosted the Deputy Commissioner from the Corrections Department at both our June and July meetings. In June, he apologized for the problem and explained how "elopements" from other substance abuse facilities are handled around the state. He told the assembled group about the State's reaction to the "elopements" and how an 8 foot fence topped with barbed wire will be in place around the residential area by the end of June with additional fencing in place by the end of August around the recreational areas. He said that a tactical team is now available for rapid recapture. Many attendees demanded that the State provide better notification of escapes through the use of the reverse 911 systems available in Carver and Plymouth and asked that the State provide better cell coverage in the forest so that users of the forest would be aware when a problem occurs. They also asked that if these are "patients" and not convicted criminals, the response be moderated and stated that the state's SWAT team response with assault rifles drawn and dogs and helicopters had made park users feel threatened.
As of June 30th, the new fencing was visible, as was the enhanced security around the site. The Deputy Commissioner provided an update at our July meeting. Fencing is now complete around two of the residential buildings. Guards continue to be stationed around the perimeter. There were no additional "elopements" in June. We reiterated our requests for an improved notification system, suggesting that temporary cell tower might provide the ability to notify park users who are currently off the grid while in the forest.
The Friends Annual Meeting took place on Thursday May 18th at the Carver Sportsmens Club. This year we had Doug Lowry, a teacher and naturalist with Audubon and Senior Staff at the National Outdoor Leadership School (NOLS) as our guest speaker. Karl Pastore from the DCR also addressed attendees. Two new members were elected to the Friends' Board- Christie Lawyer and Derek Welch. Two other members were reeelected to new two year terms- Thom Gifford and Jim Nelson. John Bescherer was recognized as "Volunteer of the Year".
The Friends have had several days working on the trails already this year- In particular, we worked along the Pine Barrens Path (a north-south trail running all the way from Charge Pond to the East Entrance). Signs have been going up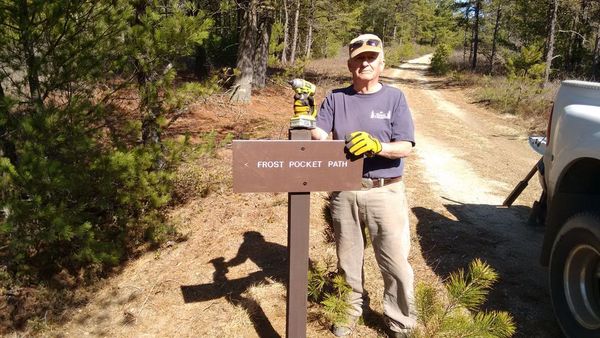 About a mile of the Pine Barrens Path trail has been brushed back with equipment authorized by the DCR.
4th Annual Pinefest sponsored by the Pine Barrens Alliance took place on Saturday May 20th. Another great day was had by all.
The 10th Anniversary Meeting of the Friends took place on May 3rd. Read a news report about the initial meeting. About a dozen people managed to join us and talk with us about the Friends accomplishments over the last 10 years and help us think about our goals going forward, in spite of the closing of the forest that night owed to unforeseen circumstances.

Park Serve Day took place on Saturday April 29th. Park Serve Day is DCR's annual day inviting the public to help beautify the park we love so much. About 35 people joined us for a morning of work. A group of students from Rising Tides Charter cleaned up around headquarters while other Friends cleared the Charge Pond Pavilion and beach. Then all returned to the headquarters for a cookout sponsored by the Friends.

Park Visitor Services Supervisor Dan Byrnes has returned. He will soon have a list of park-sponsored events posted on the state's DCR events site.

First Day Hike 2017

75 people started the year off on the right foot at our 5th annual First Day Hike on January 1st. On a beautiful and unseasonably warm day, everyone made it around the East Head Reservoir in record time. We enjoyed cocoa and snacks after the walk but fire danger kept us from having a warming fire this year.
Membership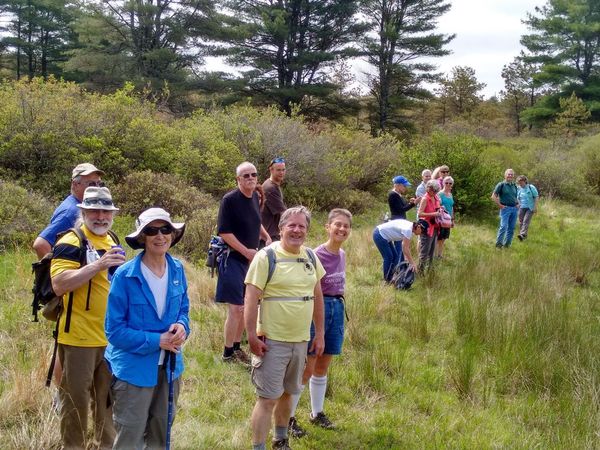 Please consider becoming a member of the Friends. Your contribution helps the Friends pay for our free family fishing derby, trail maintenance, running this website and our Meetup activity scheduling site and the many other programs we run for the benefit of the Forest and its users.
Annual membership is only $10 for an individual. More details about membership are available on our Membership page You can mail your contribution or use the PayPal Donate button below to join online.
Newsletters
Our most recent newsletters:-

The Friends' next Board meeting will take place Wednesday February 14th at 7PM in the MSSF Conference Building just up the road from MSSF headquarters. All members are invited.

Are you someone who regularly camps, bicycles, rides horses, skis or snowshoes or kayaks in the State Forest? Our group needs more input from all legitimate forest users. Currently, we have hikers, wildlife observers, hunters/fishers and cottage owners. We would love to have active campers, bicyclists and cross country skiers join us. You are welcome to attend our next Board meeting.(More info.)

Last Update 2/7/2018

Order a Friends embroidered logo hat

Take Me Fishin Highlights 2007-2013

Take Me Fishin Highlights 2014-2016

Friends Membership Page- Join Us!

Report Illegal Off Road Vehicle

Pine Barrens Community Initiative



The
Friends of Myles Standish State Forest Meetup.com listings
are the best place to find up-to-date info on all our upcoming hikes, birding events and other activities in Myles Standish State Forest.
Myles Standish State Forest map available at headquarters.
A beautiful new map of the forest was published in 2016 and is available for free at headquarters. Here is a scan of the map.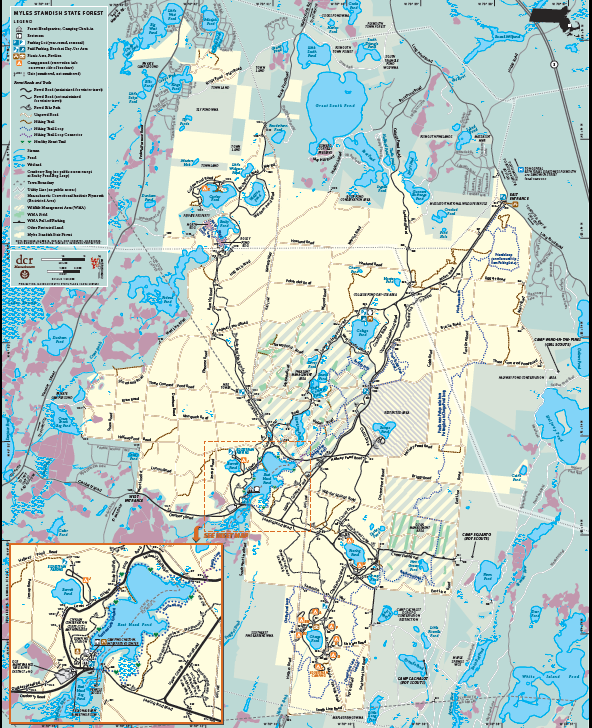 Download a
printable PDF copy of the Myles Standish map.
Check out some of our favorite trails!
Friends Hats
The Friends are selling caps with the Friends logo. You can purchase one of these hats at many Friends events. These hats are now also available for order online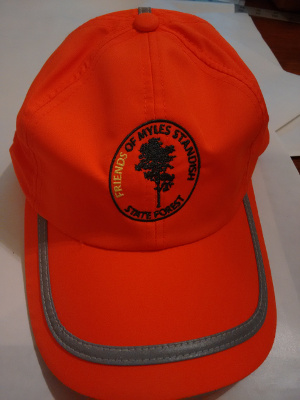 (Note: Blaze orange hats are now back in stock.).
Deer hunting season has ended.
As a reminder, while the bulk of hunting activity is in the fall, there are other hunting seasons during the year.
No hunting is allowed on Sundays.
The new 2018 calendars from botanist and longtime Friend of Myles Standish supporter Irina Kadis are now available. Order yours today from Salicicola.com
Blaze orange shirts perfect for your fall outdoors activities have been made up with the Friends logo on the front and "Escape to Myles Standish State Forest" on the back. Available in short sleeve ($11) and long sleeved ($15) sizes, they were introduced at the Friends Fishing Derby and are now available
online
.
According to this 2014 article from the Star Tribune (Minnesota) , "Massachusetts has nation's toughest ATV law." In a recent presentation to the DCR Stewardship Council by an Environmental Police Officer, Plymouth and Carver were shown to be the leading sources (#1 and #2) of calls to the Massachusetts Environmental Police with complaints about illegal riding. Your calls have been noticed and the many visits of EPO's to MSSF over the fall were credited to the calls. (Numbers for reporting OHV's in the park)
It's tick season! (It's always tick season.) Find out more about ticks and what you can do to protect yourself and your pets at the University of Rhode Island's Tick Encounter Center You can:
Learn how to make your clothes tick repellent.
How to remove ticks.
How to treat your yard for ticks.
Get your ticks tested. A $50 mail-in test performed by UMass Amherst will quickly tell you if the ticks you find are infected.
Identify ticks.
The 2016 Take Me Fishin' family fishing derby took place on September 24th. (The 2017 festival is coming up September 30, 2017!) In 2016, the water was too warm for trout to be stocked but more than 50 fish were caught during the day.