Blaze Orange Friends Shirts
Blaze orange shirts perfect for your fall outdoors activities have been made up with the Friends logo on the front and "Escape to Myles Standish State Forest" on the back. Available in short and long sleeved sizes, they will be sold at the Friends Fishing Derby.
Membership
Please consider becoming a member of the Friends. Your contribution helps the Friends pay for our free family fishing derby, trail maintenance, running this website and our Meetup activity scheduling site and the many other programs we run for the benefit of the Forest and its users.
Annual membership is only $10 for an individual. More details about membership are available on our Membership page You can mail your contribution or use the PayPal Donate button below to join online.
Newsletters
Our most recent newsletters:-

The Friends' next Board meeting will take place Wednesday October 4th at 7PM. (We usually meet the first Wednesday of every month in the "barn" up the road from forest headquarters.) All members are invited.

Are you someone who regularly camps, bicycles, rides horses, skis or snowshoes or kayaks in the State Forest? Our group needs more input from all legitimate forest users. Currently, we have hikers, wildlife observers, hunters/fishers and cottage owners. We would love to have active campers, bicyclists and cross country skiers join us. You are welcome to attend our next Board meeting.(More info.)

Last Update 9/13/2017

Order a Friends embroidered logo hat

Take Me Fishin Highlights 2007-2013

Friends Membership Page- Join Us!

Report Illegal Off Road Vehicle

Pine Barrens Community Initiative



The
Friends of Myles Standish State Forest Meetup.com listings
are the best place to find up-to-date info on all our upcoming hikes, birding events and other activities in Myles Standish State Forest.
New Myles Standish State Forest map available at headquarters.
A beautiful new map of the forest has been published and is available for free at headquarters. Here is a scan of the map.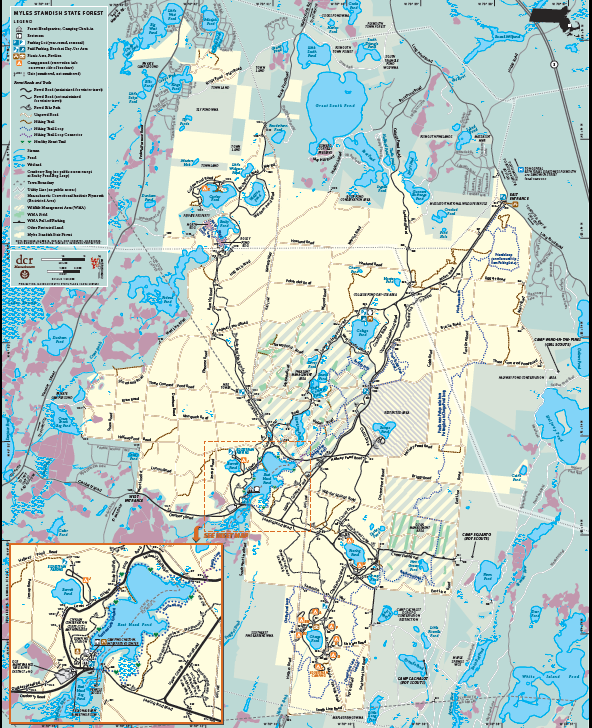 Download a
printable PDF copy of the Myles Standish map.
Check out some of our favorite trails!
2017 Photo Contest is open!
Entries are now being sought for our 2017 contest. Rules will be the same as in previous years. Up to 3 entries may be submitted by an individual. Categories are historic, landscape, flora, fauna, recreation and memorable event taken in Myles Standish State Forest. Submit photos electronically to photos@friendsmssf.com. Awards will be announced at the Friend's Fishing Derby on September 30th.
2017 Photo Contest rules
Friends Hats
The Friends are selling caps with the Friends logo. You can purchase one of these hats at many Friends events. These hats are now also available for order online (Note: Blaze orange hats are now sold out but will be back in stock before the end of September and will be sold at the Fishing Derby.).
According to this 2014 article from the Star Tribune (Minnesota) , "Massachusetts has nation's toughest ATV law." In a recent presentation to the DCR Stewardship Council by an Environmental Police Officer, Plymouth and Carver were shown to be the leading sources (#1 and #2) of calls to the Massachusetts Environmental Police with complaints about illegal riding. Your calls have been noticed and the many visits of EPO's to MSSF over the fall were credited to the calls. (Numbers for reporting OHV's in the park)
It's tick season! (It's always tick season.) Find out more about ticks and what you can do to protect yourself and your pets at the University of Rhode Island's Tick Encounter Center You can:
Learn how to make your clothes tick repellent.
How to remove ticks.
How to treat your yard for ticks.
Get your ticks tested. A $50 mail-in test performed by UMass Amherst will quickly tell you if the ticks you find are infected.
Identify ticks.
The 2016 Take Me Fishin' family fishing derby took place on September 24th. (The 2017 festival is coming up September 30, 2017!) In 2016, the water was too warm for trout to be stocked but more than 50 fish were caught during the day.